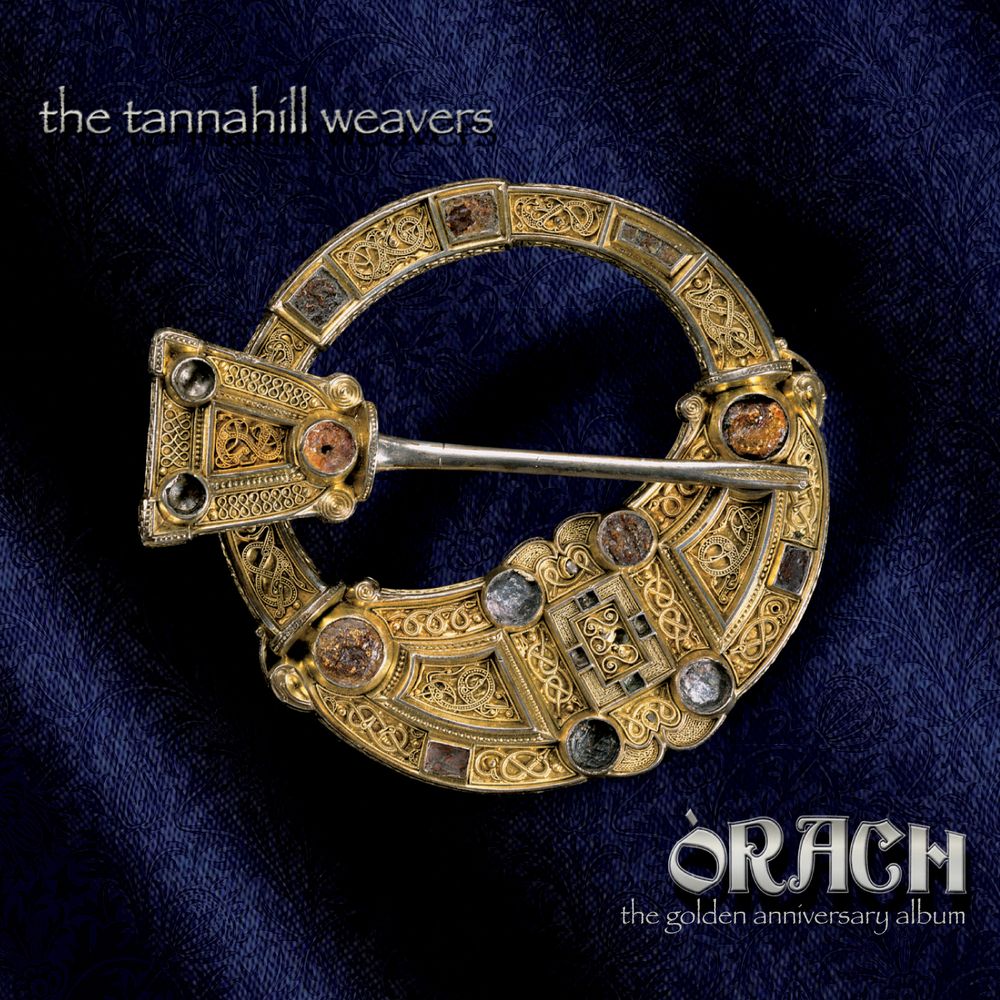 Òrach
2018 Compass Records
listen on Spotify  ~~  buy it
1 – Òrach  5:20
2 – Jenny A' Things  4:51
3 – Christchurch Cathedral  3:13
4 – The Jeannie C  4:42
5 – Northern Lights  5:26
6 – Oh No  2:48
7 – Sunset Over the Somme  2:59
8 – Fragment of a Scottish Ballad  3:00
9 – The Asturian Sessions  3:34
10 – The Ghost of Mick McDonnell  5:04
11 – Pipe Major Duncan Nicholson  4:31
12 – Jessie the Floo'er o' Dunblane  4:30
13 – The Battle of Sheriffmuir  5:35
14 – Gordon Duncan Set  4:46
Òrach 
Golden in Gaelic ~ celebrating the 50th Anniversary of The Tannahill Weavers
The Tannahill Weavers : Roy Gullane ~ Phil Smillie ~ John Martin ~ Lorne MacDougall 
Featuring : Dougie MacLean ~ Alison Brown ~ Llan de Cubel ~ Aaron Jones ~ Russell Hunter ~ Alan MacLeod ~ Colin Melville ~ Duncan Nicholson ~ Iain MacInnes ~ Kenny Forsyth ~ Gordie Duncan Jr ~ Hudson Swan ~ Innes White ~ John Cassidy ~ Les Wilson ~ Mike Ward ~ Robbie Ward ~ Ross Kennedy ~ Tod MacLeod ~ Davie Hunter ~ David Shaw
 © ℗ 2018 Phil Smillie Music
ÒRACH  (arranged Tannahill Weavers) 
Peter MacKenzie Warren (Tom Muirhead) 
Miss Rose  (traditional) 
Ridhle Cheap Breatuinn (traditional) 
Trip to the Market  (Adam Sutherland) 
Guests:  Aaron Jones, Russell Hunter 
The title track to this album is a Tannahill Weavers classic: the march/strathspey/reel set.  John learned the first tune from the guitar playing of the late Tony Cuffe, with whom he played for many years in the band Ossian.  This was Tony's interpretation of the march called Peter MacKenzie Warren. 
We had planned to record the strathspey Miss Rose years ago, before our piper at the time Colin Melville moved to Australia.  It was only when going over old rehearsal recordings that we rediscovered it.  Happily Colin is back in Scotland now and still plays with the Tannies occasionally. 
The first reel is actually an old Gaelic puirt à beul (mouth music) which fits the pipes well.  We finish the set with Lorne's pipe arrangement of a marvellous fiddle reel written by Adam Sutherland – Trip to the Market. 
JENNY A' THINGS  (Matt McGinn, arranged Tannahill Weavers) 
Guests:  John Cassidy, Aaron Jones, Tod MacLeod, Les Wilson 
Roy gives a great deal of credit for his stagecraft to the great song writer and comedian Matt McGinn.  Says Roy:  One of my very first influences in the folk world was the late Matt McGinn. As a teenager I had the chance to open for him at a gig in Lochgilphead. We were to be friends until his untimely death in 1977. Matt was always better known for his proletarian humour and for his ability to poke fun at the more controversial aspects of everyday life, but he also had a very gentle side, and every now and again he would lift a corner of that veil to reveal a little gem of a song that he had written. 'Jenny a' Things' has always been my favourite example of what the 'romantic' Matt could 'magic up'.   
'Jenny a' Things' was written for Matt's wife Janette at the time of the discovery of vast amounts of oil and gas under the North Sea, which resulted in all manner of dangerous and uncomfortable jobs on the rigs erected to extract it from that most inhospitable part of the world.  We hope that a few of Roy's adventures with the great McGinn will pop up in his soon to be released memoirs! 
A big thanks to Mr John Cassidy, affectionately known as Cass, for taking the lead vocals on the second verse.  Cass was one of the very first singers in the band, in 1968. 
Lyrics: 
On this man-made island, fishing for oil and 
working for Jenny, sweet Jenny a' things. 
Wish it was milder, it couldn't be wilder 
working for Jenny, sweet Jenny a' things. 

North winds are chillin', divin' and drillin', 
workin' for Jenny, sweet Jenny a' things. 
Battlin' wi' Neptune, but I'll be home soon, 
workin' for Jenny, sweet Jenny a' things. 
Chorus:                 
Jenny a' things, Jenny a' things, 
wish I had wings to fly to my Jenny a' things. 
Jenny a' things. 
CHRISTCHURCH CATHEDRAL  (John Sheahan, arranged Tannahill Weavers) 
Variation jig arranged by John Martin 
Guests:  Aaron Jones, Russell Hunter 
John learned this tune from the playing of the late Angus Grant Jr of Shooglenifty  fame.  Most Tuesday evenings John would meet Angus for their weekly session in Edinburgh.  The tune itself was written by John Sheahan of the Dubliners – the jig version arranged by John. 
THE JEANNIE C  (Stan Rogers, arranged Tannahill Weavers) 
Guests:  Innes White, Aaron Jones, Robbie Ward, Les Wilson 
We arrived on North American shores for the first time in the summer of 1980. We had managed to secure spots on all the major, and some not so major, festivals in Canada, from Vancouver east to Toronto. Much like the explorers of yore we were to discover riches beyond belief, only the riches we found were musical. 
We got to share the bill with a host of exceptionally good musicians we'd never heard of or, at best only ever heard snippets of. Head and shoulders literally and figuratively above them all stood one man - Stan Rogers. His songs and his voice were a revelation and we became instant fans. Despite everything else that has happened since, that has not changed. His songs remain pearls on the necklace of music.  This is one of his best - thanks for all the great songs big man. Who knows how many more classics you would have given us. 
Lyrics: 
Come all ye lads, draw near to me, that I be not forsaken 
This day was lost the Jeannie C. and my living has been taken 
I'll go to sea no more 
We set out this day in the bright sunrise, the same as any other 
My son and I and old John Price in the boat named for my mother 
I'll go to sea no more 
Now it's well you know what the fishing has been, it's been scarce and hard and cruel 
But this day, by God, we sure caught cod, and we sang and we laughed like fools 
I'll go to sea no more 
I'll never know what it was we struck, but strike we did like thunder 
John Price cried out, pitched over side. Forever he's gone under 
I'll go to sea no more 
No leak I found from bow to hold. No rock it was that got her 
But what I found made my heart stop cold, for every seam poured water 
I'll go to sea no more 
My God, I cried as she went down. That boat was like no other 
My father built her when I was nine, and named her for my mother 
I'll go to sea no more 
And sure I could have another made in the boat shop down in Dover 
But I would not love the keel they laid like the one the waves roll over 
I'll go to sea no more 
NORTHERN LIGHTS  (arranged Tannahill Weavers) 
Augstunden  (Bill McChesney) 
Paul K's  (Jamie MacInnis) 
Stone Frigate Reel  (Pipe Major Donald Carrigan) 
Inver Lasses (traditional) 
Guests:  Aaron Jones, Russell Hunter 
Phil learned the first tune here from the Scottish fiddle player Anna Wendy Stevenson - it was written by Bill McChesney and first performed by the Finnish band Groupa in 1985.  We follow with a beautiful Strathspey from Jamie MacInnis called Paul K's, and wind up with two lively reels, the Stone Frigate Reel and Inver Lasses. 
OH NO  (Billy Connolly, arranged Tannahill Weavers) 
Phil's Solution (Lorne MacDougall) 
Guests:  Les Wilson, Aaron Jones, Tod MacLeod, Alison Brown 
This song is by way of being an homage to its writer Billy Connolly – we did a tour with Billy in the early days and had the time of our lives in his company.  Although Billy is best known for his comedy and acting careers, he was a successful musician back then, playing with Jerry Rafferty in the Humblebums.  As we have such fond memories of those days, we have included one of Billy's songs on this 50th anniversary album.  Les Wilson sang this song at every sound check that we did for many years, so it is only fitting that we should have him sing it here.  We are delighted to have the wonderful Grammy Award winning banjo player Alison Brown joining us on this track. 
Lyrics: 
I'm leaving you now, I'll be gone for a while 
You're never gonna see your daddy's loving smile 
Don't say, oh no 
When the sun comes up I'll be walking out the door 
You're never gonna see your baby any more
Don't say, oh no 
When the sun comes up, I'll be leaving 
I don't give a damn if your heart's grieving 
I'm following the things I believe in 
Don't say, oh no 
Oh fare ye well my own little girl 
You can have the cabin and I'll have the world 
Don't say, oh no 

When the sun comes up I'll be walking out the door 
You're never gonna see your baby any more 
Don't say, oh no 
When the sun comes up, I'll be leaving 
I don't give a damn if your heart's grieving 
I'm following the things I believe in 
Don't say, oh no 
SUNSET OVER THE SOMME  (G S MacLennan, arranged Phil MacLennan Smillie and Tannahill Weavers) 
Guests:  Dougie MacLean, Innes White, Aaron Jones, Colin Melville, Iain MacInnes, Kenny Forsyth, Russell Hunter 
Phil Smillie and Dougie MacLean were delighted to team up again on this gorgeous air from the amazing G S MacLennan – with both of them having Highland connections this was a perfect matchup, and reminiscent of the pair of them on Phil's album Sound of Taransay.  Dougie goes back to the early days of the Tannahills when we made our first recording Are Ye Sleeping Maggie together in 1976.  Former Tannie pipers Colin Melville, Kenny Forsyth and Iain MacInnes all make appearances here, and we also have Iain to thank for the canterach. 
FRAGMENT OF A SCOTTISH BALLAD  (Robert Tannahill, arranged Tannahill Weavers) 
Guests:  Innes White, Aaron Jones, Hudson Swan, Les Wilson 
We can't remember ever performing a ghost story before. You wait 50 years for something, and two come at once! This one, from the Robert Tannahill Federation collection, begins in the depths of a severe Scottish winter. Despite the offer of warm lodging and a guide, our heroine ignores every warning and decides to continue her journey to the coast, unaccompanied and on foot, to meet her betrothed.  
The inevitable happens, and the very next day the poor fellow's heart is broken when he discovers that what he first perceives as his true love's arrival is, in fact, something much more sinister. 
Lyrics: 
Wild drives the bitter northern blast, 
Fierce whirling wide the crisping snaw, 
'Young lassie, turn your wand'ring steps, 
For e'ening's gloom begins to fa'; 
I'll tak you to my father's ha', 
And shield you frae the wintry air, 
For wand'ring through the drifting snaw, 
I fear ye'll sink to rise nae mair'. 
'Ah ! gentle lady, airt my way 
Across this langsome, lanely moor, 
For he wha's dearest to my heart, 
Now waits me on the western shore ; 
With morn he spreads his outward sail, 
This night I vow'd to meet him there, 
To tak aye secret, fond fareweel, 
We may-be part to meet nae mair'. 
'Dear lassie, turn—'twill be your dead ! 
The dreary waste lies far and wide ; 
Abide till morn, and then ye'll hae 
My father's herd-boy for your guide.' 
'No, Lady, no !—I maunna turn, 
 Impatient love now chides my stay, 
Yon rising moon, with kindly beam, 
Will light me on my weary way.' 
'Ah! Donald, wherefore bounds thy heart ? 
Why beams with joy thy wistful e'e ? 
Yon's but thy true love's fleeting form, 
Thy true love mair thou'lt never see; 
Deep in the hollow glen she lies, 
Amang the snaw, beneath the tree, 
She soundly sleeps in death's cauld arms, 
A victim to her love for thee.' 
THE ASTURIAN SESSIONS  (arranged Tannahill Weavers and Llan de Cubel) 
Mom's Jig  (Jerry Holland) 
'7D' Ochobre  (Javier Tejedor) 
Pasucais de la Villa  (traditional) 
El Molin de Puirtu  (Simon Bradley) 
Guests:  Colin Melville, Innes White, Llan de Cubel: Elías García, Fonsu Mielgo, Xel Pereda 
The Tannies have had a very close working relationship with the Asturians and Asturian band Llan de Cubel, with whom we've played many festivals together over the years.  Their style of playing Asturian music reminds us so  much of the way we approach traditional music here in Scotland.  For this anniversary album, we invited them to a joint venture on this track.  This fantastic band are also recording an album this year – definitely one to look out for! 
The first tune was written by Canadian fiddler Jerry Holland – from there we change the mood with two Asturian tunes, finishing with a Simon Bradley tune.  Simon has been the fiddle player with Llan de Cubel for many years. 
It is a nod to the past to feature Dougie MacLean on digeridoo on this track.  When Dougie filled in with us in 1985 touring in the USA he carried one all over the country, on and off of flights and in and out of our tour bus.  Above and beyond the call of duty! 
THE GHOST OF MICK MCDONNELL  (Daithi Rua, arranged Tannahill Weavers) 
Guests:  Aaron Jones, Les Wilson, Davie Hunter 
A couple of years back, our good friend singer/songwriter Daithi Rua asked if we would like to appear on a compilation album he was putting together to celebrate his 25 years in 'the biz'. 'I have written a song I would love to hear you do,' said he. And so, in we went to the studio to record 'The Ghost of Mick McDonnell', a song he had written to commemorate the senseless horrors of the First World War. Mick McDonnell, a corporal from the Royal Irish Regiment, rises up out of his grave in Flanders and walks back down to Ypres, the scene of the battle. Along the way he overhears people talking about his fallen comrades and is mesmerised by how Flanders looks in the present day. 
 Obviously, we liked not only his song but also the end product, arranged to suit our sound. We are very pleased to have been part of his celebratory album 'The Harvest' and equally pleased that his song is now part of ours. 
Lyrics: 
I am Corporal Mick McDonnell Royal Irish Regiment, 
I think I died quite quickly with no time to repent. 
I rose up from my Belgian grave one morning in the rain, 
and I walked back down to Ypres, to the place where I was slain. 
I stopped under a white stone arch and there I read the names 
of all those loyal comrades fated just the same. 
Torn to blood red ribbons answering the call, 
I shed a tear for those young men who didn't have to fall. 
I heard somebody saying that a century had passed, 
the silence it was deafening, the guns had stopped at last. 
No rats, no barbed wire fences, no gas, no cannon spray, 
They said for their tomorrows we gave our today. 
Sheep now graze the trenches where slaughtered lambs once died, 
no-man's land, a graveyard now, crosses side by side. 
From near and far off nations, allies tried and true, 
all for one were marching to the very same tattoo. 
They called that war 'The Great War' and if they only knew, 
there was nothing great about it, it was rotten through and through. 
Thousands upon thousands of my fellow Irish men 
would not live to ever see their homeland once again. 
I am Corporal Mick McDonnell Royal Irish Regiment, 
I pray you learn from history and heed my testament. 
My ghost now marches Flanders fields in sunshine and in snow. 
How I long for Tipperary and the sweetest girl I know. 
PIPE MAJOR DUNCAN NICHOLSON  (arranged Tannahill Weavers) 
The Road to Loch nam Bairneas  (Allan MacDonald) 
Tha Ceum Danns' a Dhìth  (Allan MacDonald) 
Lord McConnell of Lough Erne and Lochend  (Allan MacDonald) 
Guests:  Duncan Nicholson, Innes White, Russell Hunter 
Three tunes here, written by piper Allan MacDonald.  The piping is by former Glasgow Police Pipe Major Duncan Nicholson, another former Tannie.  These are a quickstep, a strathspey, and a reel, which was written by Allan for his good friend the excellent musician Cathal McConnell.  The piping here is a perfect example of the accuracy required of a Pipe Major – thanks Duncan for turning the clock back to record with us on this album! 
JESSIE THE FLOO'ER O' DUNBLANE  (Robert Tannahill, arranged Tannahill Weavers) 
Guests:  Ross Kennedy, Les Wilson, Innes White, Aaron Jones, Kenny Forsyth 
Ross Kennedy made two albums with the band in the 1980's, and in the true spirit of this recording we invited him on board to sing a song with us.  This was written by the poet Robert Tannahill, the band's namesake – another of his many beautiful love songs. 
Lyrics: 
The sun has gane doon o'er the lofty Ben Lomond, 
And left the red clouds that preside o'er the scene; 
While lanely I stray in the saft simmer gloamin', 
Tae muse on sweet Jessie, the floo'er o' Dunblane. 
How sweet is the brier wi' its saft fauldin' blossom, 
And sweet is the birk wi' its mantle o' green; 
Yet sweeter and fairer, and dear tae this bosom, 
Is lovely young Jessie, the floo'er o' Dunblane. 
Chorus: 
Lovely young Jessie, lovely young Jessie, 
Lovely young Jessie, the floo'er o' Dunblane 
She's modest as onie and blythe as she's bonnie, 
For guileless simplicity marks her its ain; 
And far be the villain divested o' feeling, 
Wha'd blight in its bloom the sweet floo'er o' Dunblane. 
Sing on, thou sweet mavis, thy hymn tae the evening, 
Thour't dear tae the echoes o' Calderwood glen; 
Sae dear tae this bosom, sae artless and winning, 
Is charming young Jessie, the floo'er o' Dunblane. 
Chorus 
THE BATTLE OF SHERIFFMUIR  (Robert Burns/John Barclay, arranged Tannahill Weavers) 
The Cameronian Rant (traditional) 
The Aftermath (Phil MacLennan Smillie) 
Guests:  Mike Ward, Hudson Swan, Alan MacLeod, Robbie Ward, Duncan Nicholson 
Our version of 'The Battle of Sherramuir' is based on the Burns' edit of the Reverent John Barclay's much wordier original text, 'Dialogue Between Will Lick-Ladle and Tom Clean-Cogue'. There's also a definite touch of the 'Sounds of the Seventies' involved, as the 1977 - 1980 lineup of Alan MacLeod, Mike Ward, Hudson Swan, Phil Smillie and Roy Gullane take to the studio once more to tackle Mike's trademark inventive musical arrangement.  
Being a battle with no conclusive outcome, the song bounces between two 'eye-witness' accounts of the event, a battle in which both the Scottish and the English claimed victory.  It is believed that at one end of the battlefield the English were reported to have won their contest with the Scots, while at the other end it was reported that the Scots had defeated the English.  The battle then disintegrated into chaos with both sides claiming victory.  In actual fact it would be fair to say that no one won.  We have tried to create a feeling of the Scots marching to the battlefield and the chaos in the aftermath. 
The recording of this track took place in a variety of time zones, amongst which was that of the good people involved with Blue Frog Studios, in White Rock, British Columbia, on the outskirts of Vancouver. That's where we caught up with Alan, leather pants and all. Thanks to all at Blue Frog, we couldn't have done the song without the 'Cameronian Rant' and we couldn't have done that without your much appreciated help. 
Lyrics: 
"O cam ye here the fight to shun, 
Or herd the sheep wi' me, man? 
Or were ye at the Sherra-moor, 
Or did the battle see, man?" 
I saw the battle, sair and teugh, 
And reekin-red ran mony a sheugh ; 
My heart, for fear, gaed sough for sough, 
To hear the thuds, and see the cluds 
O' clans frae woods, in tartan duds, 
Wha glaum'd at kingdoms three, man. 

The red-coat lads, wi' black cockauds, 
To meet them were na slaw, man; 
They rush'd and push'd, and blude outgush'd 
And mony a bouk did fa', man: 
The great Argyle led on his files, 
I wat they glanc'd for twenty miles; 
They hough'd the clans like nine-pin kyles, 
They hack'd and hash'd, while braid-swords, clash'd, 
And thro' they dash'd, and hew'd and smash'd, 
Till fey men di'd awa, man. 
But had ye seen the philibegs, 
And skyrin tartan trews, man; 
When in the teeth they dar'd our Whigs, 
And covenant True-blues, man: 
In lines extended lang and large, 
When baiginets o'erpower'd the targe, 
And thousands hasten'd to the charge; 
Wi' Highland wrath they frae the sheath 
Drew blades o' death, till, out o' breath, 
They fled like frighted dows, man! 
"O how deil, Tam, can that be true? 
The chase gaed frae the north, man; 
I saw mysel, they did pursue, 
The horsemen back to Forth, man; 
And at Dunblane, in my ain sight, 
They took the brig wi' a' their might, 
And straught to Stirling wing'd their flight; 
But, cursed lot! the gates were shut; 
And mony a huntit poor red-coat, 
For fear amaist did swarf, man!" 
My sister Kate cam up the gate 
Wi' crowdie unto me, man; 
She swoor she saw some rebels run 
To Perth and to Dundee, man; 
Their left-hand general had nae skill; 
The Angus lads had nae gude will 
That day their neibors' blude to spill; 
For fear, by foes, that they should lose 
Their cogs o' brose ; they scar'd at blows, 
And hameward fast did flee, man. 
They've lost some gallant gentlemen, 
Amang the Highland clans, man! 
I fear my Lord Panmure is slain, 
Or in his enemies hands, man, 
Now wad ye sing this double fight, 
Some fell for wrang, and some for right; 
But mony bade the world gude-night; 
Sae pell and mell, with muskets knell, 
The Tories fell, and Whigs to hell,
Flew aff in frightened bands, man. 
GORDON DUNCAN SET  (arranged Gordon Duncan and Tannahill Weavers) 
Nora Criónna (traditional) 
Unknown  (traditional) 
Port Sean Seosamh (traditional) 
Red Ken's (aka Rory Gallagher's) (Gordon Duncan) 
Brady's (traditional) 
Guests:  Aaron Jones, Gordie Duncan Jr, Innes White 
A set here to commemorate the late great Gordon Duncan's time with the band.  Gordon is credited with revolutionising the way pipes are played today by up and coming young pipers.  This set was recorded on Gordon's album Just For Seumas  – this is our take on it.